WCS 2019 Academic Poster Session
The WCS Academic Poster Session is designed to encourage university students* to submit posters promoting new ideas and technologies based on preliminary or completed coatings or related materials research. All students* presenting an accepted poster will receive $200.00 and are eligible for the three Academic Poster Session monetary awards. In addition to the three monetary awards, there are four speaker slots reserved for four students to present their findings to the attendees of the WCS Symposium. Each accepted academic poster will be provided with a 36″ x 48″ display board to highlight the research project. Students will be required to be present in the exhibit hall during WCS exhibit hours for the purpose of discussing their projects with WCS attendees. Only one poster can be submitted by a given student with a maximum of two students per poster. A University can elect to set up an accepted academic poster without a student, but the University will not receive the $200 accepted poster prize or be eligible for the three academic poster competition awards.
Awards for the WCS Academic Poster Session are as follows:
            1st Place:     $1,200.00
            2nd Place:     $600.00
            3rd Place:     $300.00
*Definition: In order to be eligible for the $200 student stipend and student registration fees, a "student" is defined as someone who is actively enrolled full time in an accredited university, college, high school, or middle school. Students must be able to produce a valid student identification or proof of enrolement at their stated academic institution.
Questions? Please contact Phil Avery.  Phone: (925) 698-1514 , email: phila@tcrindustries.com
WCS 2017 Student Poster Winners
1st Place:  Emily Oreste, Cal Poly SLO $1200
2nd Place:  Jeremy Armas, Cal Poly SLO $600
3rd Place:  Kyle Aidukas, Cal Poly SLO $30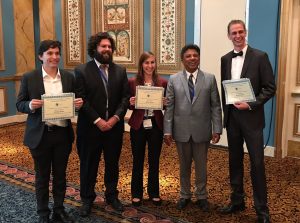 WCS 2015 Student Poster Winners
1st:  $1,200    Erica Bilodeau, Cal Poly SLO – "Novel Electrochemical Investigations of Failure Modes in Aerospace Coating Systems"
2nd: $600    David Bilger, Cal Poly SLO – "Multiscale Assemblies of Conjugated Polymer-Surfactant Complexes"
3rd: $300    Akriti Agarwal, Eastern Michigan – "Re-healable Coatings Based Upon Thermally Responsive Linkages"