President's Message
The 2015 WCS Board and I would like to extend our heartfelt thanks to everyone who attended and supported the 32nd Biennial Western Coatings Symposium and Show. We were so thrilled at the great response to the show. We registered over 1100 attendees, and when including exhibitors and speakers, our overall attendance was over 1360 people. That is simply tremendous, and calculates out to 15% growth over 2013 and 25% growth over 2011.
Due to the large number of quality submissions, we expanded our technical program to 95 papers in 5 tracks over 2.5 days. We hope you enjoyed the variety and quality of the presentations.
We had 14 student posters and 4 student presentations . Please see the student section for information and photos of the top three prize-winning posters. We were so pleased with the student participation at the show.
Our sold-out exhibition hall opened for 2 hours during lunch breaks and for another 2 hours after the talks let out at the end of each day. Thanks to every vendor, academic institution, and media partner who made up the 152 table-tops.
Thanks to our many sponsors. Every sponsorship package sold out, and we so appreciate the generous support.
Our Welcome Reception was held in the beautiful Chateau Rooftop Gardens under the Eiffel tower and the stars. Almost 750 people attended this event, and enjoyed the food, beverages, and entertainment while connecting with colleagues old and new.
It's been a pleasure as well as a tremendous learning experience for me to be involved with the planning and execution of this show. Thanks to my 7 colleagues on the Board who selflessly donated their time and energy, and also to their employers. I also want to acknowledge Alfa Creative who worked tirelessly on our behalf.
Lastly, I would like to thank my employer, JF Shelton Canada, for allowing me the time to participate on the WCS Board, and supporting me throughout my term as President.
I hope everyone enjoyed the show and found it to be a valuable learning and networking experience. Come join us again from Oct 15 – 18, 2017 at Paris Las Vegas!
Sincerely,
Bonnie MacKenzie
WCS President, 2015
WCS 2015 Student Poster Competition
WCS 2015 Student Poster Winners
David Bilger, Erica Bilodeau and Akriti Agarwal
1st:  $1,200
Erica Bilodeau, Cal Poly SLO – "Novel Electrochemical Investigations of Failure Modes in Aerospace Coating Systems"
2nd: $600
David Bilger, Cal Poly SLO – "Multiscale Assemblies of Conjugated Polymer-Surfactant Complexes"
3rd: $300
Akriti Agarwal, Eastern Michigan – "Re-healable Coatings Based Upon Thermally Responsive Linkages"
WCS 2015 Samson Adler Award Recipients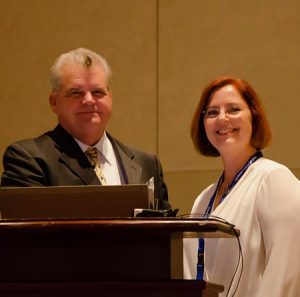 WCS 2015 Samson Adler Award Recipient Tony Rumfola's award being accepted by Sam Rumfola, with WCS President Bonnie MacKenzie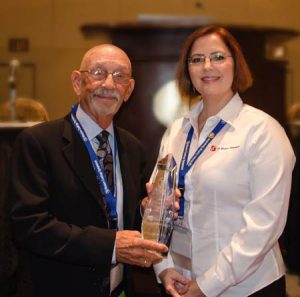 WCS 2015 Samson Adler Award Recipient Romer Johnson, with WCS President Bonnie MacKenzie